Real Estate Door-Knocking in the Modern AgeBy Leslie C. Stone for Florida Realtor magazine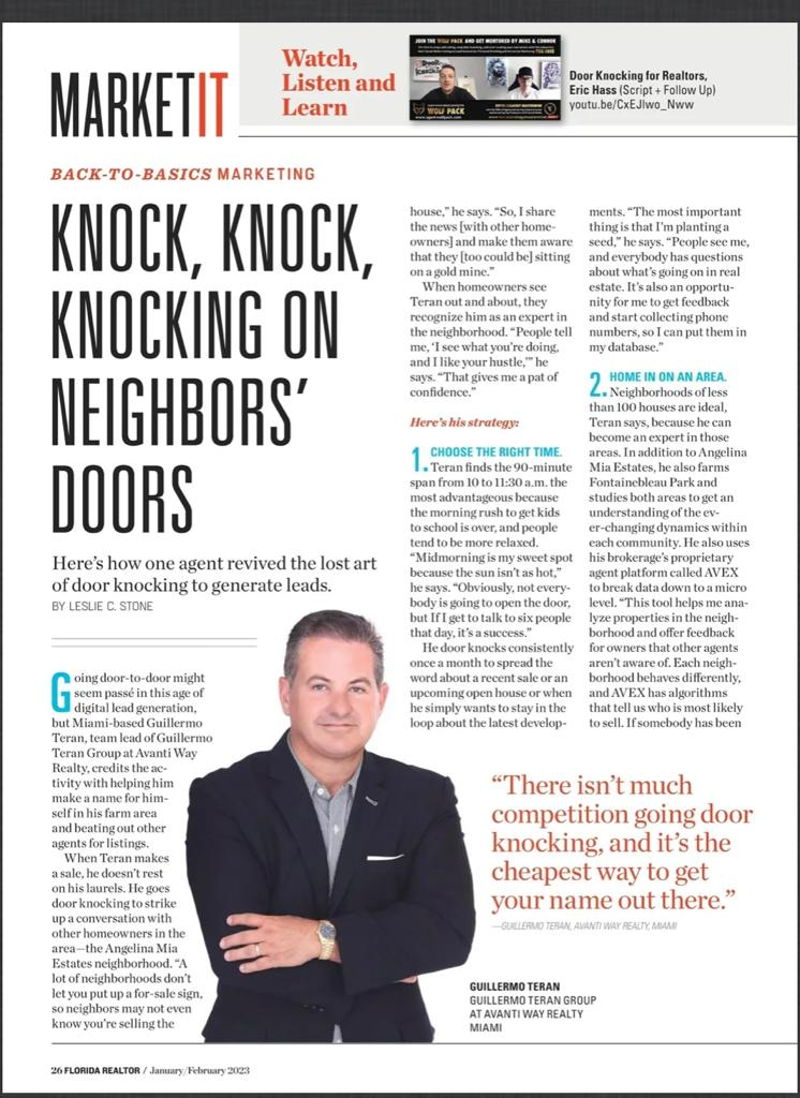 Real Estate Door-Knocking in the Modern AgeBy Leslie C. Stone for Florida Realtor magazine
You may think door-knocking as a lead generation tool is old and outdated. But take a look at how one real estate agent has revived this lost art.
Going door-to-door might seem passé in this age of digital lead generation, but Miami-based Guillermo Teran, team lead of Guillermo Teran Group at Avanti Way Realty, credits the activity with helping him make a name for himself in his farm area and beating out other agents for listings.
When Teran makes a sale, he doesn't rest on his laurels. He goes door-knocking to strike up a conversation with other homeowners in the area—the Angelina Mia Estates neighborhood. "A lot of neighborhoods don't let you put up a for-sale sign, so neighbors may not even know you're selling the house," he says. "So, I share the news [with other homeowners] and make them aware that they [too could be] sitting on a gold mine."
When homeowners see Teran out and about, they recognize him as an expert in the neighborhood. "People tell me, 'I see what you're doing, and I like your hustle,'" he says. "That gives me a pat of confidence."
Here's his strategy:
1. Choose the right time.
Teran finds the 90-minute span from 10 to 11:30 a.m. the most advantageous because the morning rush to get kids to school is over, and people tend to be more relaxed. "Midmorning is my sweet spot because the sun isn't as hot," he says. "Obviously, not everybody is going to open the door, but If I get to talk to six people that day, it's a success."
He door knocks consistently once a month to spread the word about a recent sale or an upcoming open house or when he simply wants to stay in the loop about the latest developments. "The most important thing is that I'm planting a seed," he says. "People see me, and everybody has questions about what's going on in real estate. It's also an opportunity for me to get feedback and start collecting phone numbers, so I can put them in my database."
2. Hone in on an area.
Neighborhoods of less than 100 houses are ideal, Teran says, because he can become an expert in those areas.
In addition to Angelina Mia Estates, he also farms Fontainebleau Park and studies both areas to get an understanding of the ever-changing dynamics within each community. He also uses his brokerage's proprietary agent platform called AVEX to break data down to a micro level.
"This tool helps me analyze properties in the neighborhood and offer feedback for owners that other agents aren't aware of. Each neighborhood behaves differently, and AVEX has algorithms that tell us who is most likely to sell. If somebody has been there for 20 years, for example, they have [sizable] equity." Sometimes he will ride his motorcycle around, observing details such as how many cars are in the driveway. "If they have a lot of cars that tells me they probably need a bigger house," he says. "There are so many things you can learn once you start door knocking that you can't pick up from Zillow Street View. Even for listings I get outside my farm area, I will door knock there as well."
3. Blend in.
In the beginning, Teran wore business attire when going door-to-door, but it turned people off because they assumed he was selling something. Now, he wears gym clothes.
"You have to go in casual clothes because people will see you as their neighbor and be more open to talking with you," he says. "A T-shirt with your company logo on it works, too." He often wears a baseball cap that says, "Ask me about real estate."
Before trying to farm a gated community or a neighborhood that doesn't allow strangers to canvass door-to-door, he recommends having a friend who lives there. "If you live there yourself, you're allowed to go door-knocking," he says.
4. Don't go empty-handed.
Taking marketing collateral with you is a must, Teran says, stressing that it shouldn't be too cumbersome or too small.
"You've got to leave something behind. Door hangers don't work because people throw those away."
He developed a couple of marketing pieces specifically for door-knocking.
"The first one is about who I am and what I can do for homeowners in the neighborhood. I will hand them out and say, 'Listen, I live in the neighborhood, and I'm a real estate agent. Here's a little card of mine. If you have any questions let me know.' If they don't open the door I leave it behind." He also passes out "just sold" flyers.
Above all, Teran goes door-knocking because it gives him a break from the tedium of the office and an opportunity to meet people face-to-face. "I leave the office, park the car and go for a walk," he says. "It feels good because I find peace in motion. If you don't like walking, door-knocking isn't for you. But if you're like me and enjoy getting outdoors, go door-knocking and hand out your business card. There isn't much competition going door-knocking, and it's the cheapest way to get your name out there."
Try this door-knocking script
According to real estate educator Tom Ferry, door-knocking is a great strategy for finding leads and homeowners looking to sell. If you're unsure what to say, memorize this real estate prospecting script that can help you gain a homeowner's confidence, so they'll want to work with you to sell their property.
Agent: Hi, my name is (name) with (brokerage), how are you today?
Homeowner: I'm doing well, how are you?
Agent: Great! I wanted to give you a quick update on the real estate market. Last month, we sold (X) homes, with (X) selling above the asking price. Were you aware of this?
Homeowner: No, I wasn't aware.
Agent: Right now, we have more buyers than properties for sale. Are you interested in selling?
Leslie C. Stone is a Vero Beach-based freelance writer.
XADVERTISEMENT